Robert Eugene Allen
12 Dec 1943 - 31 Aug 1998
Bob, along with his older brother Jim and younger sister Kathee, was born in Riverside, CA. While he was still a very small child they moved to Oregon and soon settled in Fortune Branch by 1950. He started first grade in the old two-story cement schoolhouse located on Mill Creek. It was probably rare that he'd come home from school without red clay covering his clothes from the inviting clay banks behind the building.
He started competitive basketball and baseball as soon as he could in the 7th grade and continued on until the end of high school. But sports weren't his only talent. He had a great sense of rhythm and played the saxophone in the school band.
His dad, James Merle, drove log truck when Bob was small so it wasn't a surprise when Bob was driving before he was even old enough to get a license. In fact, sometimes he would take the truck from their home across the road to the mill under his dad's guidance. This at an age that he could hardly reach the pedals. His first car was a little 1951 green Ford. He bought a Ford when he started and that was all he ever had. Following his father's footsteps, Bob always said, "When I grow up I'm going to have a truck and a child and we'll go trucking together." A prediction that came true.
When it came to sports, he had great support from his family who rarely missed a chance to see he and his brother play. Where the game was here or away, one could always find at least Maxine in the stands and James Sr. if he wasn't working. The years of sports where he cherished most were those when he played basketball on the same team with his brother and when his pitching was in top form for the Pirate's baseball team. During his senior year he shared pitching duties with Carl Burke and switched off with him at first base. After high school he wanted to determine just how good he was and traveled to the Dodgers Spring Training Camp and tried out for the team.
| | |
| --- | --- |
| | His interest in cars wasn't just with driving but all things mechanical. He could take a Ford engine apart and put it back together in record time. After high school he started legally drag racing at tracks around Eugene, the coast and even into Northern California. After winning many trophies at the drags, he moved on to racing jalopies, progressed to stockcars and finally to super stock cars. |
He raced all over the area but his favorite racing took place at a dirt track in Cottage Grove. A track where a portion of his ashes were scattered after his passing.
Bob enjoyed learning about the past and preserving our history. A few years ago he acquired the Allen family wagon from Southern California, which his father rode in as a child. He had it restored by the Amish and every year during parades around the area he pulled it behind his 1931 Model A Ford which he had restored (which had belonged to the long time community resident, Chet Smith, Sr.).
| | |
| --- | --- |
| | Here's another photo of Bob after one of his races. But in this one he's got two trophies. The one he won on the track and other that won his heart...his daughter Chantelle. |
He has a daughter, Chantelle, and a son, Robert Eugene, Jr. Below is a picture of Bob holding his first grandchild, Mercedes, on the day she was born in 1995. He has two granddaughters and numerous step children and step grandchildren, all who he worshipped and lived for and who remember him with the fondest of memories.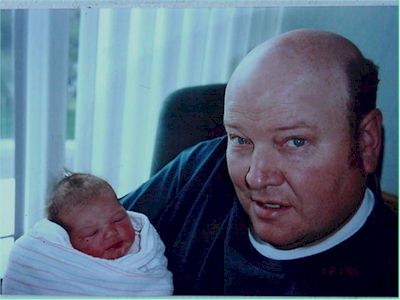 The Music is "Teardrops In Heaven" by Eric Clapton.